Plants in cities reduce temperatures. Urban forests are tops, but incorporating other types of vegetation and vegetated systems like parks, plantings, green roofs and green walls in specific situations are also valuable contributors. If you really want to keep cities cool, don't cut down old trees!
These are the most important conclusions of The benefits of green infrastructure for heat mitigation and emissions reductions in cities, a literature review from The Trust for Public Land's Climate-Smart Cities™ program. The report was developed in partnership with the Urban Climate Lab at the Georgia Institute of Technology and offers a review of the literature outlining the demonstrated effectiveness of green infrastructure in providing heat mitigation and emissions reductions in cities.
Combatting the urban heat island is easiest in regions that receive sufficient rainfall to support vegetation. Trees provide the biggest cooling potential and carbon reduction in cities, but other vegetation provides benefits too, depending on the site and season. For instance, positioning a deciduous vine on a green wall to provide temperature-reducing shade in the summer, while allowing warming sunlight to penetrate in the winter.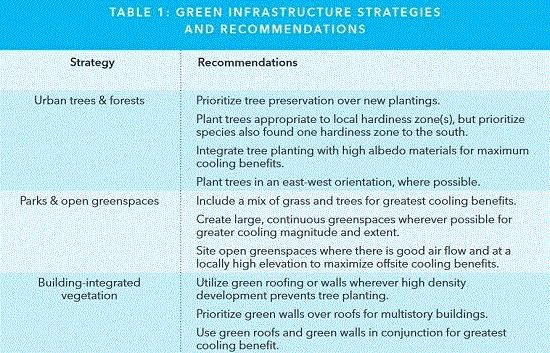 Design recommendations based on literature about the benefits of green infrastructure for temperature moderation and carbon reduction in cities.
"Research shows that the extent and types of green infrastructure are more important than the typology of urban development in which these strategies are located," the authors write.
Older, larger trees provide the greatest cooling and air pollution benefits. Siting new trees in areas that allow for longevity and preparing the site for success are important to maximizing long term benefits.
Tree protection standards, requiring tree removal permits and minimum tree sizes for replanting, can greatly reduce the urban heat island. "One study finds that neighborhoods with such policies have on average 2.7-7°F lower surface temperatures than comparable neighborhoods without such policies."
May 1, 2017 NewTerrain.